By Product Expert | Posted in Nissan Murano on Monday, June 24th, 2019 at 10:59 am
2019 Nissan Murano Performance Features
The auto industry is filled with new cars that can deliver exciting performance on the road, but there are not many crossover SUVs that can give you the driving dynamics you're looking for. Nissan has designed and built a new crossover SUV that does just that. The new 2019 Nissan Murano is a sporty midsize crossover SUV that offers seating for up to five passengers and plenty of cargo space while also providing you with the power and performance you desire on the road. The new 2019 Nissan Murano offers an impressive list of performance features and very powerful engine specs that help give you the sporty driving experience you want and need in a new crossover SUV. 
[Visit Model Review and Research Page: 2019 Nissan Murano] 
2019 Nissan Murano
 Engine Specs and Information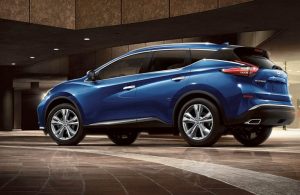 Underneath the hood of the 2019 Nissan Murano, you'll find a powerful V6 engine that delivers impressive horsepower and torque. You'll also find many performance features in the 2019 Nissan Murano that help deliver outstanding driving dynamics. The 3.5-liter V6 engine pushes out an incredible 260 horsepower and 240 lb-ft of torque. It uses Nissan's Xtronic® CVT (continuously variable transmission) to send all that power and torque to your choice of either a front-wheel-drive system or to an available all-wheel-drive system that offers superior traction control on slick road surfaces and increased performance on dry roads. Standard and available performance features you can find in a new 2019 Nissan Murano include a 4-wheel independent suspension, rebound springs, front and rear stabilizer bars, vehicle-speed-sensitive power steering, all-wheel-drive, hill start assist, multi-link independent rear suspension, all-season tires, and a few others.