Car Buying Tips for Teenage Drivers
The day has finally come, your child is no longer a kid and he or she needs a car to move around. Either if you are a parent searching a car for your teenager or you are the one looking to buy your first car, there are some tips that will surely guide you through the process and will make the final decision easier to make. Keep reading to find out the top car buying tips for teenage drivers.
>>> Read more: 2019 Nissan Altima Technology Features and Comfort Options <<<
Used or New?
This is one of the first questions you need to ask yourself, and the answer will probably depend on the budget. Buying a new vehicle definitely has some advantages, as it will probably include the latest safety and technology features to make teens comfortable behind the wheel. On the other hand, a used car will cost considerably less money and will involve cheaper insurance. If you can't decide between used or new, a pre-purchased car will probably be the best option. Not only are they affordable, but they also go through rigorous maintenance to ensure they are safe to drive.
Safety Features
Safety is the number one thing to consider. Whether buying new or used, you should choose a vehicle with as many safety features as you can afford. Any car for a teenager should meet a minimum of safety requirements, such as proper airbags, safety seatbelts, traction control, electronic stability control and anti-lock brakes. However, if your budget allows it, there are advanced safety features you can look for to ensure a safer ride. Some of them are automatic emergency braking, blind-spot warning, pedestrian detection, rear-cross traffic alert and lane-keeping assist.
Connectivity
If one thing is for sure it is that any teenager will want to stay connected while driving. To avoid distractions, it's a good idea to pick a car that includes Bluetooth connectivity and hands-free features. Programs like Apple CarPlay and Android Auto make smartphone apps accessible from the vehicle's touchscreen, ensuring the driver's eyes are focused on the road.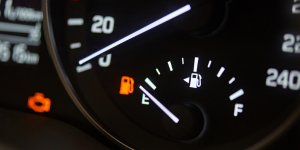 Horsepower and gas mileage
Don't encourage teens to drive fast by providing them a powerful engine. A vehicle with lower horsepower will ensure the driver maintains the proper speed, avoiding potentially dangerous situations. In the same way, you should look for a fuel-efficient car to help your teen save on gas down the road.
Generally, a fuel-efficient car will have an EPA estimated fuel economy rating of 25 mpg combined city and highway driving.
Double Test Drive
When choosing a new car, drivers must make sure they are going to be comfortable driving it every day. When the situation involves teenagers, it's important that a more experienced driver also tries the vehicle to avoid missing any red flags.
>>> Read more: Which 2020 Nissan vehicles have the best value? <<<
Nissan models like the Altima or the Rogue are ideal for teenagers thanks to the safety features, space and comfort that comes with them. If you live around Brownsville, TX and need a vehicle for teenage drivers, come visit us today at Charlie Clark Nissan Brownsville and we will help you find a model that fits your needs. You can also take a look at our online inventory.